JetBlue mechanics use the iPad mini too!
JetBlue used the iPad in the cockpit as a replacement for paper-based flight bags. As part of the program, pilots are trained to use three core apps providing real-time weather, pre-flight planning and airport and aircraft charts.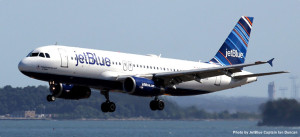 The iPad mini is now part of the cabin crew and supports the sale of duty free products.
In its new role at JetBlue, iPad will serve as a portable digital toolbox to help mechanics operate on sensitive aircraft systems safely. The goal is to avoid delays and to work efficiently. Now more than 500 technicians are using iPad mini 3 toolboxes across the company's 11 line maintenance stations!