The first 360-degree movie!
A new and immersive 360-degree movie called 'White Room: 02B3' is coming to Android and iOS devices later this year!
You need a suitable smartphone and a VR device, such as Google Cardboard. The price will be approximately 3 Euros.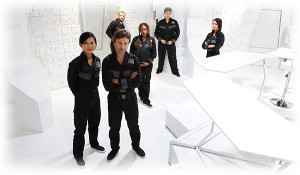 plot:
White Room: 02B3 follows the fates of six strangers who wake up in a bizarre white room and come to realise that they're part of an elaborate experiment which could change humankind forever.
Furthermore, there should be other versions for VR glasses. such as Oculus or HTCVR.