WhatsApp breaks all records!
WhatsApp's user growth has been truly remarkable. The messaging app now has more than 800 million monthly active users and there is no end in sight!
There's every likelihood that WhatsApp will be growing on and on; so that it´s possible that there will be more than 1 billion users till the end of the year.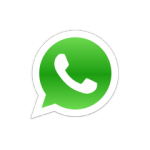 Moreover there are some new features since the takeover by Facebook last year: WhatsApp can be used in a browser and you can make phone calls with WhatsApp.
If you decide that typing with WhatsApp is too slow, you can use our wifi keyboard!