How to wear the Apple Watch…
Apple published some hints regarding the iWatch: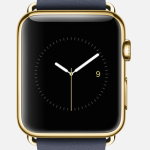 For best results, the back of Apple Watch needs skin contact and you shouldn´t wear the watch too loose. The reason is, that e.g. the sensors aren't reading the heart rate, so you cannot get accurate results. You may want to tighten your Apple Watch band for workouts, then loosen it when you're done.
Even if the user wore the iWatch correctly, it´s possible that a small number of people will experience reactions to certain materials.
Moreover the correct cleaning is very important. Therefor Apple includes a cloth in the delivery.